Semester 2: Intensive Elementary Chinese Level 3. It's as much of a treat as it sounds; a journey through the labyrinths of grammar, which, if you're lucky enough to make it out the other side, will leave you blinking in the sunlight, awash with the revelation that all Chinese words sound the same. All of them.
Once again it's down to three females superheroes to take my hand and lead me into the caves.
Speaking Teacher
My first class of Semester 2 was Speaking. In I bounded, full of the enthusiasm of a new term, new pens in my pencil case, my textbook freshly torn from its cellophane prison. Speaking Teacher looked young, as do all of my teachers, and nice. Good; no crotchety old dragon who'll pinch me every time I get an answer wrong.
Speaking Teacher began the lesson with around 10 minutes of unbroken instruction, in Mandarin. So fine, I thought: she's making a show. This is her 'you're not first years anymore, Dumbledore moment'; let her have it. She made us introduce ourselves (name; Chinese name; country of origin; length of time learning Chinese), which is an entirely standard thing to make a new class of people do. And then she spoke in Mandarin some more.
It was at this point that the cold claws of dread began to grope my spine. I had no idea what was going on. Clearly she was issuing some new instruction but I couldn't understand what she was saying. I looked around; my classmates – some from my old class but mainly new people – seemed to be in the same boat as me. One of them, who thought he had an idea of what we should be doing, told his deskmate, in English, what to do. She was on him in a second. 'You will not speak English in my class,' she said, in Mandarin. He didn't understand her, so she repeated it in English and to this day these are some of the only English words I've heard her utter.
Look, I get it. From the very beginning I got it. My Mandarin is only going to improve if I spend 8 hours a week with a person refusing to speak anything else. But after kindly Shirley, it was a real shock to the system. So much, in fact, that a number of people immediately swapped out of our class after that first lesson. Cowards.
Since then, Speaking Teacher has revealed herself to be very funny, patient (God, so patient) and generous. It remains a struggle to keep up with her lessons, though my improvement since that first day is significant. I also suspect that Speaking Teacher's English is tip-top, though I'm sure she's never going to reveal that to us.
Reading Teacher
The pressure was on here. I realised last semester that Reading class underpins everything; that without a sound understanding of it, my Speaking and Listening are nothing. And therefore I had come to idolise my previous Reading Teacher, who was a true force of nature.
First impressions are everything, and before she had uttered a word I knew that New Reading Teacher was a Fashion Icon. She favours a bejewelled sweater with some manner of cargo pant or highly patterned jean, and every type of shoe she owns is a platform. My favourite ever sweater of hers seemed to be a disappointingly plain black number, until closer inspection revealed that it contained randomly placed sheer patches, ringed in sequins. This has been rivalled by her most recent sweater, which has an in-built exterior corset.
She's also clearly a genius. The grammar she explains to us is so complicated (though I'm sure barely the tip of an enormous, horrific, Mandarin grammar iceberg), but she has a gift for making it relatable. She once missed class to speak at some kind of Confucius Conference and I saw her in a different part of the building walking around with a head-mic on; no doubt she'd been sharing some of her enormous intellect with her peers, whilst hopefully explaining how to pull off clashing patterns.
Reading Teacher's English isn't the strongest, which I have no problem with. It leads to wonderful moments like her hard C pronunciation of magnificent. Magnifikent is now the only way I will ever say that word. She also calls McDonalds MacDonLand, which is surely the name of their upcoming theme park.
She is also fond of a tangent. Once in class we were discussing Opera, and she proceeded to demonstrate for us the different vocal styling of China's various regional operas. Just the other day – a day when she was wearing a wetlook bandage dress and totally killing the look – I nipped out to the toilet and when I came back, this image was on the screen:
I don't really know why. She is a law unto herself; we are not worthy.
Listening Teacher
If it sounds dismissive to say that our Listening Teacher looks about 15, then I'm not trying to be – she genuinely does. I would have to say that Listening Teacher is the least engaged of the Semester 2 trio, but that's not without its charm.
Listening Teacher always sits during our lessons. As is traditional, she occupies the first half of the lesson with quick fire questions, picking on people at random. Often she will respond to an answer by dropping her draw and staring goggle eyed at the speaker, not entirely unlike..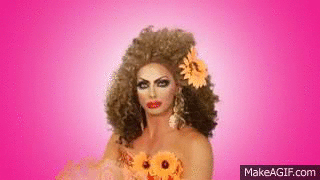 Disarming, yes. But not as off-putting/demeaning as when you give an answer that is so ludicrously wrong she responds with a hearty laugh and then OBVIOUSLY TEXTS HER FRIENDS ABOUT HOW STUPID YOU ARE. I admire her front.
We recently received the bombshell news that Listening Teacher is pregnant, which means she misses some lessons for appointments. This has ushered in the bonus appearance of…
Substitute Listening Teacher
Substitute Listening Teacher is the most upbeat person I have ever encountered. 100% of the time she sports an ear-to-ear grin, and she likes to play loud Chinese pop songs before class to pep us up. Her hair is waist length and she often wears little kilts.
One time, she started reading out an exercise before realising that it was the wrong one.
'I AM SO EMBARRASSED,' she screamed, before hiding her face behind the textbook and giggling for a full 20 seconds, while we all stared uneasily at each other, unsure if we needed to comfort her.
I don't want to detract from the fact that she's a complete joy, but I hope that now she's solidly in her second trimester our original, sarcastic, grouchy Listening Teacher misses fewer classes.
This new trio is perhaps less iconic than my original teachers, but I would really like to emphasise again just how much I am in awe of their ability to coax a Mandarin speaker (and reader, writer and listener) out of me. When I move back to London I am going to have large framed pictures of all 6 teachers framed in every room of my flat.